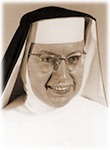 SINSINAWA, Wis.—Sister Rosa Rauth, OP, died April 21, 2023, at St. Dominic Villa, Hazel Green, Wis. The funeral Mass was held at the Dominican motherhouse, Sinsinawa, May 3, followed by burial in the Motherhouse Cemetery.
Sister Rosa made her first profession as a Dominican Sister of Sinsinawa Aug. 5, 1950, and her perpetual profession Aug. 5, 1953. She taught music and math for 40 years in schools. Sister Rosa taught some form of music, whether piano and/or vocal, her entire adult life and served as registrar for two years and in transportation for 12 years. She was director of music ministry in parishes for 19 years. Sister Rosa loved music to her core. She conducted countless choirs; held recitals; and integrated her vast skills in liturgical music, contemporary songs, and lively parodies. She was fun, kind, helpful, and always generous with her time. She served in South Dakota, Oklahoma, Nebraska, Wisconsin, Illinois and Minnesota.
Sister Rosa was born July 16, 1926, in Oak Park, Ill., the daughter of William and Marion (Daley) Rauth. Her parents; an infant sister, Mary Agnes Rauth; and a brother, Robert Rauth, preceded her in death. She is survived by nieces, nephews, and her Dominican Sisters with whom she shared 72 years of religious life.
Memorials may be made to the Sinsinawa Dominicans, 585 County Road Z, Sinsinawa, WI, 53824-9701 or at www.sinsinawa.org/donate online.
Repeat broadcasts of the wake and funeral for Sister Rosa are available online at www.sinsinawa.org/live. Click on the "on demand" tab.