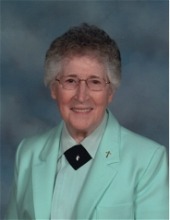 Sister Lucentia Klonecki, age 104, a Sister of St. Joseph of the Third Order of St. Francis for 88 years, died May 8, 2023, at North Ridge Copperleaf Nursing Home in Stevens Point, WI.
Sister Lucentia was born October 16, 1918, in Arcadia, WI, to the late Maximilian and Pauline (Waldera) Klonecki. Sister Lucentia attended area schools in Arcadia until completing her 8th grade and then entered the St. Joseph Academy in 1933. On August 5, 1935, she was received into the novitiate and eventually professing her Perpetual Vows on August 4, 1942.
Sister Lucentia earned a BA in Education from St. Norbert College in 1955 and pursued her master's in education from Marquette University in 1961. She served not only as a teacher but also as a teaching supervisor for young sisters beginning their careers in the congregation. After 25 years as a teacher and supervisor in the congregation, she became the diocesan school consultant for the Diocese of La Crosse, working directly with new teachers in the diocese, visiting classrooms, consulting, and encouraging them. Sister taught at St. Stanislaus School in Racine, St. Mary in Pulaski, St. Adalbert in Milwaukee, St. Peter in Stevens Point, St. Josaphat in Oshkosh, St. Pius X School in La Crosse, and Sacred Heart School in Cashton, WI. After 11 years with the diocese, she began to prepare herself for her next adventure in ministry and after her yearlong sabbatical in Puerto Rico, felt called to pursue ministry to the elderly. In 1978, Sister Lucentia became the pastoral minister at St. Patrick Parish in Janesville, WI, focusing her ministry on the homebound and elderly of the parish. It was here that Sister Lucentia stayed and eventually retired at the age of 90, in 2009. She returned to St. Joseph Motherhouse in Stevens Point and continued her ministry to the elderly and infirmed sisters until the sisters were transferred to area nursing facilities and Ohio. She remained in the Stevens Point area where she eventually became a resident, first at Willow Brooke and then North Ridge.
She is survived by nieces, Julie (Ron) Swartz, Mary Beth Klonecki, and Lorraine Erpelding; and nephews, Patrick (Teri) Klonecki, Clarence Klonecki, and Joseph Wener; and many grandnieces and nephews. Also surviving are her special friends, Sheila Schindler, Lori and Dean Shuda, Janet and Paul Haackson, and many others to whom she ministered and touched, along with the Sisters of St. Joseph of the Third Order of St. Francis.
She was preceded in death by her parents, Max and Pauline; brothers, Edward, Joseph, Dominic, Clarence, and Paul; and sister, Stella.
The Sisters of St. Joseph of the Third Order of St. Francis are grateful to the staff and residents of North Ridge-Copperleaf, who provided Sister Lucentia the tender care she needed and ProMedica volunteers and nursing staff for their loving care and tending. We also are grateful for the love and friendship of Lori and Dean Shuda, Sheila Schindler, Janet and Paul Haakenson, and all the friends who continued contact and visits to Sister Lucentia from St. Patrick Parish in Janesville. To all those who loved and were loved by Sister, we are grateful for you and will continue to hold each of you in our prayers.
A Mass of Christian Burial will be held at 11:00 AM on Friday, May 12, 2023, at Holy Spirit Parish – 2151 Stanley Street; Stevens Point. Friends and family are invited to gather and share memories at the church on Friday at 9:00 AM until the time of service. Burial will follow at St. Joseph Sisters Cemetery.